Independent, Trusted, Insured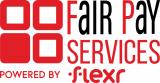 Fair Pay Services
Fair Pay Services is one of the UK's most cost effective payroll partners for Contractors and Employment Agencies.
Our Contractors are provided with our unbeatable employee benefits package - Flexr Rewards, along with Professional Indemnity, Drivers Negligence, Personal Accident and other insurances as standard.
We deliver a traditional PAYE Umbrella employment solution for our Contractors and an outsourced employment management service for their Employment Agencies. Contractors are fully employed on a contract of employment, which provides continuity, stability and protection through any series of assignments as well as full employment rights and dedicated HR support. All income is paid as employment income and PAYE and NICs are deducted at source. Salary sacrifice for pensions is available, please enquire for details.
Online portals and a sophisticated suite of processing technologies ensure that Contractors and Employment Agencies can easily submit timesheet data with invoicing and payroll processed daily. Automation and an international infrastructure deliver all this at a fraction of the cost of a traditional payroll provider.
T: 0333 311 0633 (opt 3)
Back to top