Independent, Trusted, Insured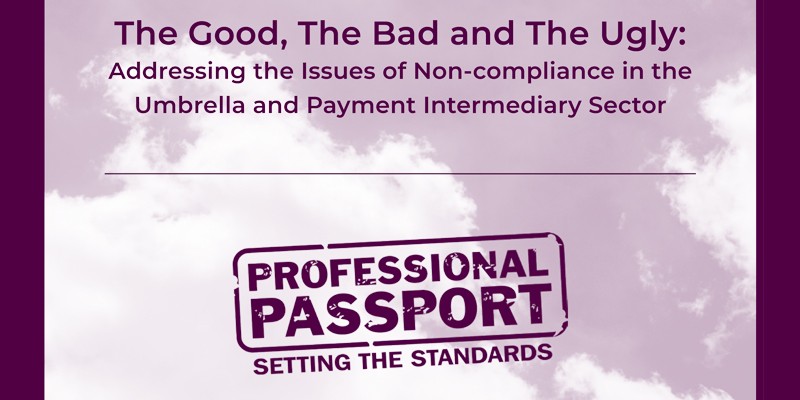 In recent weeks we have heard an increasing number of calls to introduce regulation and impose further legislation on the umbrella sector.
Over the years we have seen how legislation has led to a series of unintended consequences and much of it has not served to help and support the contracting sector and the whole supply chain for the better.
Government is burying its head in the stand and ignoring the key challenges that our industry faces, specifically around non-compliance, transparency and enforcement. To address some of our industry's problems Professional Passport has published a report called The Good The Bad and The Ugly – Addressing the issues of non-compliance in the umbrella and payment intermediary sector.
Outlined in the report Professional Passport calls for a number of short-term and longer-terms plans to be put in place that will help build a more open, compliant and orderly marketplace without the need for more legislation and regulation.
In the short-term, Professional Passport proposes:
HMRC Umbrella Pay Calculator: HMRC should develop a calculator hosted on .gov website so that checks can be made by workers with the output providing a detailed breakdown of all costs, including employment costs. This would afford HMRC the chance to highlight common areas where disguised remuneration or other hidden costs could be found. The illustrator could include a reporting function for users to report any anomalies when matched with HMRC's illustration. This would provide valuable intelligence to help inform enforcement.
HMRC Umbrella Payslip Checker: In developing the calculator it would be relatively simple to add an umbrella payslip checker so that the workers' payslip data could be checked for accuracy and any concerns could be reported to HMRC. It would also provide an opportunity for HMRC to promote the Personal Tax Account which serves to validate the payslip information. Again, it will help to marginalise the providers where false payslips are being produced.
Benchmarked PAYE rate: All roles advertised, where the rate offered is not PAYE, should use a set formula to create a benchmarked PAYE rate that must also be shown. This allows a worker a common currency when assessing the true value of roles.
Status Indicator: To assess any assignment, contractors must understand its Off-Payroll status as well as Supervision, Direction and Control. Whilst the status can only be finalised once the worker has been considered, this should indicate a provisional status. In many instances, the workers input is unlikely to alter the outcome.